Are you a traveller interested in history and exploring ancient architecture? Then this blog is for you! If you are visiting Indore to tour some best places near Indore, then you can visit the Maheshwar Fort near Indore in Madhya Pradesh India. If you want to find out about the Maheshwar fort trip, we have got some key facts and helpful tips that make sure you have a trip to remember forever.
The Enchanting Maheshwar Fort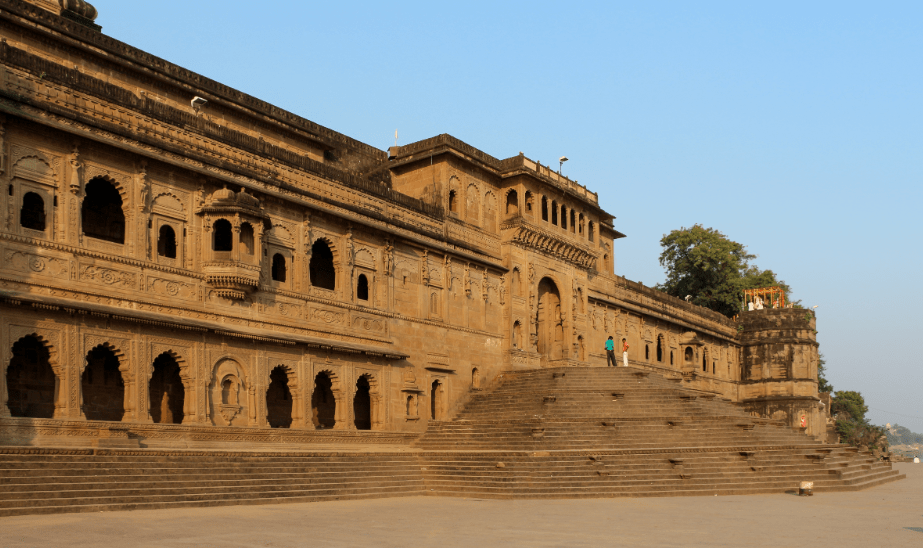 Maheshwar Fort is situated on the banks of the holy Narmada River. It was built in the 18th century under the rule of the famous Maratha queen Ahilyabai Holkar. This incredible building reflects the brilliance and grandeur of the era with its impressive stone walls, elaborate carvings and grand entrances that are sure to leave you in awe.
History of Maheshwar Fort
The fort dates back to the 13th century and was built with the support of the Paramara dynasty. However, in the 18th century, the fort rose to prominence during the reign of the brave Maratha Queen Rani Ahilyabai Holkar and underwent extensive expansion and renovation.
Queen Ahilyabai chose Maheshwar as her capital and dedicated herself to transforming Maheshwar into a centre of arts, culture and spirituality. Queen's insight transformed the castle into an architectural wonder, decorated with grandiose structures, great gates and temples.
Maheshwar Fort not only served as a military stronghold during Ahilyabai's reign but was also a centre of religious and cultural activity. The Queen's love for the city was reflected in various charitable projects, including the construction and maintenance of temples and ghats along the sacred Narmada River.
Tourist Places in Maheshwar, MP

Here are some of the top tourist places to explore in Maheshwar:
Maheshwar Fort: The iconic fort stands tall on the banks of the Narmada River, offering breathtaking views and a glimpse into the region's regal history.
Maheshwar Ghats: These steps leading to the riverbanks are perfect for peaceful walks, witnessing mesmerizing sunrises and sunsets, and experiencing the spiritual essence of the town.
Maheshwar Temple: Dedicated to Lord Shiva, this ancient temple is renowned for its intricate architecture and spiritual significance.
Ahilyabai Holkar's Palace: Visit the residence of the legendary queen Ahilyabai Holkar, known for her patronage of arts and culture.
Rehwa Society: Explore the handloom and weaving traditions of Maheshwar by visiting this cooperative society famous for producing Maheshwari sarees and fabrics.
Ek Mukhi Datta Temple: Situated on a hillock, this temple offers a panoramic view of Maheshwar and the surrounding landscape.
Narmada Ghat: Another picturesque ghat along the river, where you can take a boat ride or witness the evening Aarti ceremony.
Kaleshwar Temple: A sacred site with historical significance and an ancient Shiva lingam.
Mandleshwar: Just a short distance from Maheshwar, visit this quaint town known for its temples and scenic beauty.
Chhatri Bagh: An elegant garden complex with numerous cenotaphs or chhatris, honoring the Holkar rulers.
Pandarinath Mandir: A serene temple dedicated to Lord Pandurang, a form of Lord Vishnu.
Things to do in Maheshwar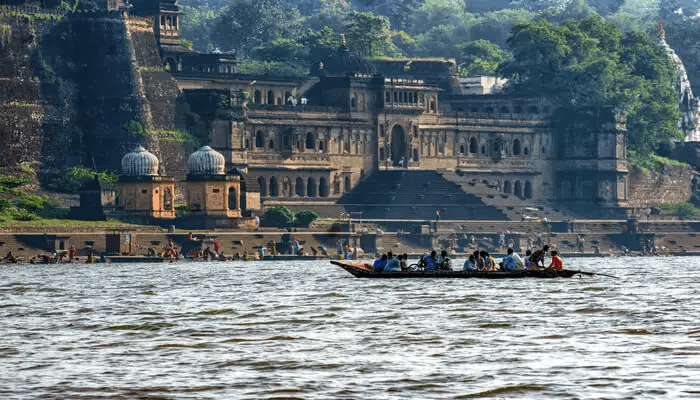 Apart from the Fort and temples, you can do some activities to indulge in your tour,
Take a Riverside Walk: Stroll along the picturesque ghats lining the Narmada River and soak in the serene ambiance.
Witness Aarti Ceremony: Experience the spiritual fervor during the evening Aarti ceremony at the ghats, a soul-stirring ritual.
Shop for Maheshwari Sarees: Explore the local markets and indulge in shopping for the famous Maheshwari sarees and other traditional handloom products.
Boat Ride on Narmada River: Enjoy a tranquil boat ride on the Narmada River, offering beautiful views of the town and its surroundings.
Discover Rehwa Society: Learn about the traditional handloom weaving techniques at Rehwa Society and witness skilled artisans at work.
Admire Ahilyabai Holkar's Palace: Visit the historic residence of Rani Ahilyabai Holkar, the visionary queen of Maheshwar.
Visit Ek Mukhi Datta Temple: Trek up to the temple on a hillock to enjoy panoramic views of Maheshwar.
Indulge in Local Cuisine: Savor the delicious local cuisine, including traditional dishes and street food delights.
Relax at Chhatri Bagh: Spend a peaceful time amidst the cenotaphs in Chhatri Bagh, a serene garden complex.
Take a Day Trip to Mandleshwar: Visit the nearby town of Mandleshwar and explore its temples and natural beauty.
Photography Opportunities: Capture the stunning architecture, riverside views, and vibrant culture through your camera lens.
Attend Local Festivals: If your visit coincides with festivals like Narmada Jayanti or Ahilyabai Holkar's birth anniversary, participate in the celebrations to experience the town's cultural vibrancy.
Experience Village Life: Venture to nearby villages and experience the authentic rural life and traditional customs.
Tourism Tips for Maheshwar Tour:
Best Time to Visit: The ideal time to visit Maheshwar Fort is during the winter months, from October to March when the weather is pleasant and comfortable for sightseeing.
Clothing: As Maheshwar has religious and cultural significance, it is advisable to dress modestly, especially when visiting temples and sacred sites.
Footwear: Be prepared to remove your shoes before entering certain areas within the fort and temples, as it is customary in many Indian religious sites.
Guided Tours: Consider hiring a local guide to fully appreciate the historical significance and stories associated with the fort. They can provide valuable insights into its rich past.
Photography: Capture the beauty of the fort and the landscapes, but be mindful of photography restrictions in certain areas, especially within temples.
Safety: As with any trip, keep your belongings secure and stay cautious while exploring new places. You can take an Indore to Maheshwar cab directly from the airport for your safe journey.
Embark on a journey to Maheshwar Fort, where history, spirituality, and natural beauty unite in perfect harmony. Let this enchanting destination cast its spell on you as you create everlasting memories. If you need any guidance regarding the Maheshwar tour, our Indore cab service will definitely assist you with the trip.