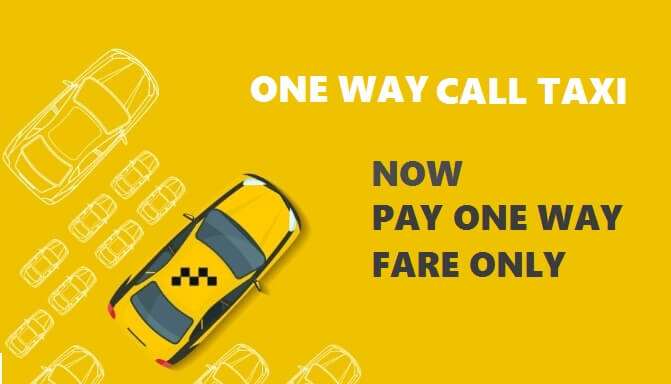 Book One Way Taxi or Outstation Taxi from Indore cab services
Looking for a reliable taxi service in Indore? Look no further than Indore Cab Services! We offer top-quality taxi services at affordable rates, and we're here to help you get where you need to go. Whether you need a one-way taxi or an outstation taxi, we can accommodate your needs. We also offer discounts for bulk orders, so don't hesitate to contact us today! We offer a wide range of taxi services, including One Way Taxi and Outstation Taxi, to meet your every need. We pride ourselves on providing reliable and affordable services, and we are dedicated to ensuring our customers have a safe and comfortable journey.
What is One Way Taxi or Outstation Taxi?
A one way taxi service is a great option for those who only need transportation for a one-way trip. Whether you're traveling to a different city like- Indore to Bhopal, Indore to Ujjain, Indore to Mahakal, Indore to Mumbai etc, or just within your own town like- famous palace of Indore, hiring a one way taxi can be more affordable than taking a taxi or renting a car. One way taxi from Indore to Ahmadabad is also perfect for airport transfers. Outstation taxi services are perfect for those who need transportation for a longer trip. Rather than renting a car and spending money on gas, you can hire a driver and car to take you where you need to go. Both one way and outstation taxi services are available through Indore cab services.
Why choose One Way Taxi or Outstation Taxi from Indore cab services
When it comes to traveling, sometimes you need just one way to go. For example, you may need a one-way taxi from the airport to your hotel or a one-way outstation taxi from your home to the airport or one way taxi from railway station. That's where One Way Taxi or Outstation Taxi from Indore cab services comes in. One way Cab from Indore to Ahmedabad offer safe and reliable one-way transportation for a fixed price, so you can travel with ease. Plus, our drivers are experienced and know the best routes, so you're sure to get where you're going on time.
How to useful One Way Taxi or Outstation Taxi from Indore cab services
Taxi services are an essential part of living. From running errands to getting to work on time, taxis make it all possible. That's why we're so excited to offer our One Way Taxi and Outstation Taxi services. These services are perfect for when you need to get somewhere quickly and don't have time for a long commute. Whether you need to travel to the airport or just across town, our taxis will get you there fast. We even have a special fare for out-of-town trips! So what are you waiting for? Book your taxi today and start your journey with ease.
What are the benefits of one way taxi or outstation taxi through Indore cab service?
At Indore Cab Services, we understand that not everyone needs the same kind of taxi service. That's why we offer both one way taxi and outstation taxi services. With one way taxi, you can travel to your destination and back without any additional stops. This is perfect for short trips or when you only need a taxi for a specific purpose. Outstation taxi is great for long trips or when you need to visit several different destinations. We'll take you wherever you need to go, and our drivers are always happy to help with luggage or other requests. We're committed to providing the best possible service, so you can always count on us for reliable transportation.
Our Team
The Best of Professionals
How can we help you?
Have a Questions?
If you have any comments, suggestions or questions, please do not hesitate to contact us. Our high-quality office staff will help you and answer all your questions.