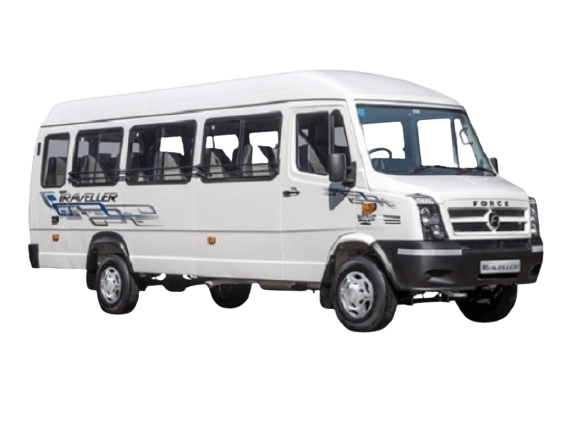 If you are planning to go on a trip with your family, colleagues or may be your friends in a large group from Indore, renting a tempo traveler is one of the best options. They say that the journey is more important than the destination. We at Indore cab service have the exact same motto.
When you book a tempo traveler through Indore taxi service, you are just not booking a vehicle, you are booking comfort as well. With ample of space for your luggage and for your group, you will have the best travel experience.  The best part about renting a tempo traveler from Indore at Indore cab service is that the vehicles are well maintained and the driver are well aware of the best routes from Indore. It is always cost efficient to have one tempo traveler than two cars. The price for renting a tempo traveler in Indore varies on the seating capacity. We have options ranging from 12 seater to 20 seater.
Airport Taxi Service in Indore
We offer a wide range of tempo-traveler services to and from Indore airport at lowest fares. You can choose 9 to 16 seater AC tempo travelers based on your requirement and make your booking online. We provide door-step service – from airport terminal to your home or vice versa. Enjoy a convenient and safe ride experience with extra leg-space for everyone. Never worry about delays with our on-time pick up and drop services.
We are following government issued precautionary guidelines to enable safe travel for our customers during the coronavirus pandemic. Our tempo-travelers are disinfected before and after every ride. Face masks and sanitizers are mandatory for our drivers as well as the customers. We are also facilitating inter-state mobility for customers with a valid COVID-19 e-pass (wherever applicable). We are grateful to our corona warriors, our drivers, who are willing to get on road to help people move from A to the other cities in a tempo traveler.
 You will get the most affordable and reasonable fares when you rent a tempo traveler from Indore. Besides the best value for money deal we also ensure transparency in billing process by sharing the detailed cost breakup in advance. This helps the customers to get convinced that there are no hidden charges while booking from Indore cab service…
Our Team
The Best of Professionals
How can we help you?
Have a Questions?
If you have any comments, suggestions or questions, please do not hesitate to contact us. Our high-quality office staff will help you and answer all your questions.